It has been some time since I last gave this page my focus. My original intent, when the slowdown of society began, was that I would capture all the madness. All of it. A lockdown journal. If anyone else read it - good. If not - then I would still appreciate having put it down on digital paper.
Photos, videos of the boys and the madness. A daily log so that I could look back years from now and see the weirdness we were living through. Capture the daily minutia that comes with being homebound through winter, then spring, and ultimately summer…
But it never really happened. Aspirations of creative productivity turned into existential wheezing. And for months, nothing happened.
While frustrated that I could not keep to any "recording" routine, I did start to find myself doodling around at night - a functional way to keep the hands busy when the tension was high.
These little, quick sketches started to take on story, so I began to push them out beyond the otherwise dull images in front of me (or reflecting back at me in the mirror).
---
Years back, I had a year long photo project that I called "Life in Mundane." The boys were young and it felt like we were living in this daily loop of small, similar events. Days started to fall into patterns that didn't exist pre-children. Things felt like constant repeat.
Quarantine has created similar days. I'd wake up and think "Goddammit, I'm still here."
Sketches now help to capture the concerns and the fears. For me, these last few months, they've opened me up to things I did not know that I was thinking. Like what life could look like when the barriers are removed.
The deterioration… then the eventual rebuild.
---
Time with the family is good. Too much time with me, and they start to see the crazy bleeding through. These will be profound months for my children. I hope that years from now, they'll remember the time and not the madness. Not the survival-first approach we've had to use during the toughest days.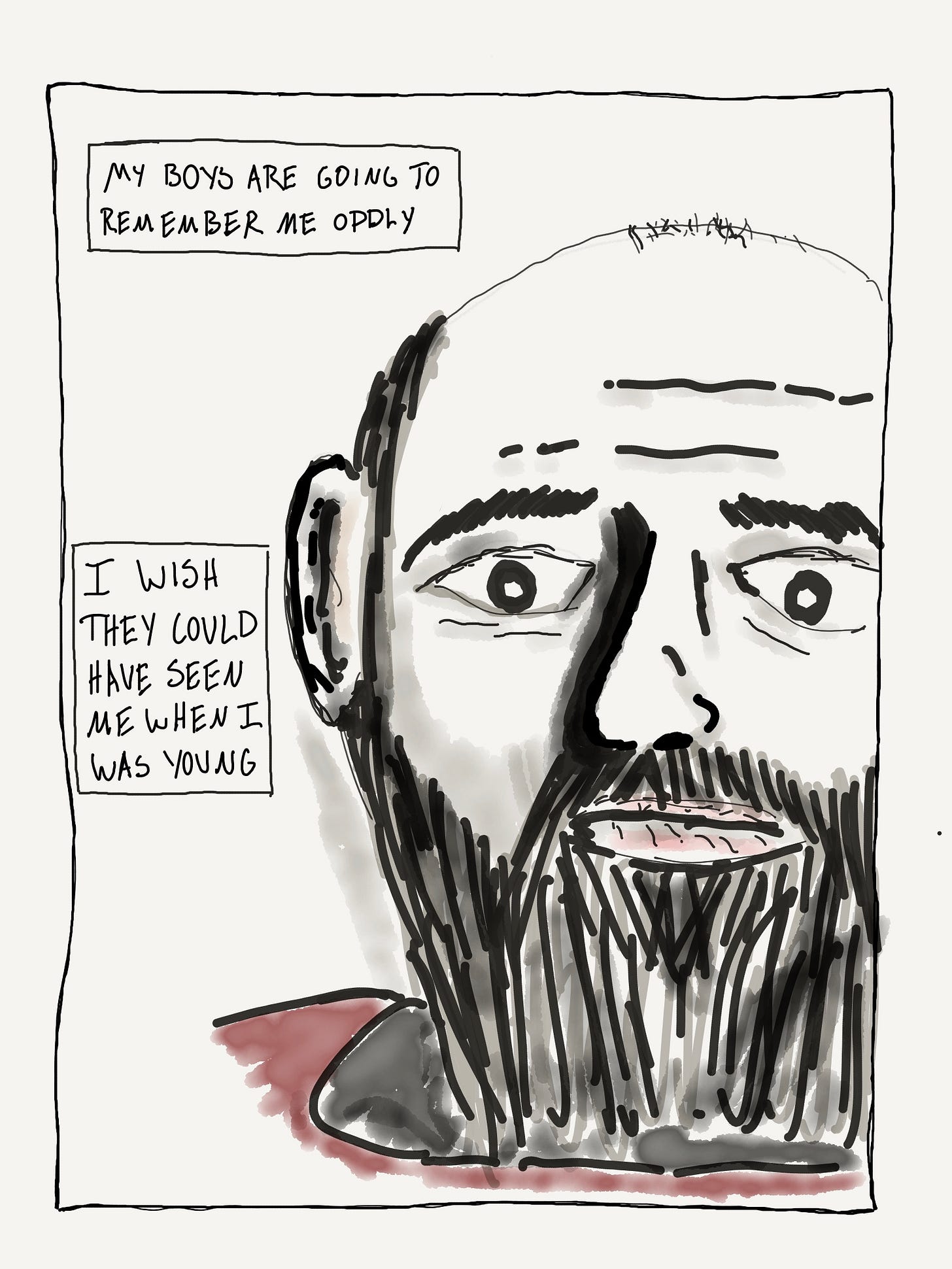 Things will have to get better eventually. Thinking back to a mantra used during my old ultra running days - "things cannot always get worse." Life will pick up, new normals will become new patterns. Children are resilient, more so than most adults, and will have stories to tell. I will keep writing things down, drawing little drawings, recording as much as can - because when these months are in the rearview mirror, they will be mostly forgotten.
---
This one is for my wife, who loves the poem by Stevie Smith that inspired this doodle. Interesting times indeed.
An old one I discovered recently while cleaning out the office. I miss riding on trains.